Eve Crosby

The Duke and Duchess of Sussex have had a short but sweet reunion with their nephews and nieces, Princesses George and Louis and Princess Charlotte

Duke and Duchess of Sussex has managed to have a short but sweet reunion with his nephews and nieces, Princess George And louis And Princess Charlotte, during their Extended stay in Britain for the Queen's funeral.
MORE: Royal grandchildren follow in parents' footsteps with moving vigil for Queen
Prince Harry and his wife Meghan Markle was early unexpected encounter catching up with the kids of cambridge and Prince William Feather Harry's 38th birthday.
WATCH: Prince William and Prince Harry walk side by side during the Queen's procession
On Thursday afternoon, when 40-year-old William returned to Windsor after picking up his children from school, he passed his brother and sister-in-law as they were going in the opposite direction. The brothers crossed each other, but then stopped, turned around, closed their windows and talked for a while.
MORE: Will Prince Harry's children Archie and Lillibet be brought to the United Kingdom after the Queen's death?
MORE: Who will attend the Queen's funeral – see names
It is not believed that Harry and Meghan will have their own children, Archie Harrison Mountbatten-Windsor And Lilibet Diana Mountbatten-Windsor, Were with them because it seems that both the youths are left in America.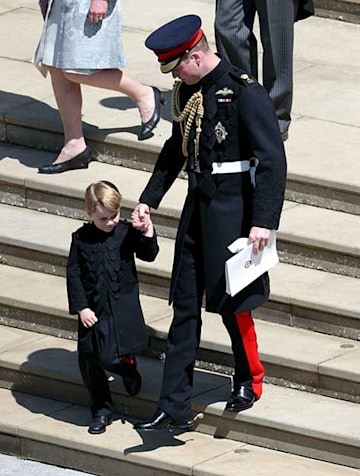 The Duke and Duchess of Sussex approached the Cambridges this week
The brothers have had few opportunities to spend time together mourning their grandmother, the Queen, who passed away on Thursday, September 8, just a week before Harry's birthday.
They put up a united front and went out with their wives, princess kate and Meghan, last Saturday, but Greetings! understands that the Prince of Wales unintentionally asked his brother and his wife to attend the tribute viewing just an hour before their appearance.
MORE: Why would Princess Kate and Meghan Markle miss the touching vigil for the Queen?
William and Kate were joined by Harry and Meghan for a public engagement for the first time since Commonwealth Day in March 2020. The royal couple spoke to people on opposite sides of the crowd before getting into the same car driven by William.
Make sure you never miss the Royal story! Sign up for our newsletter to get all our celebrity and royal news delivered straight to your inbox.