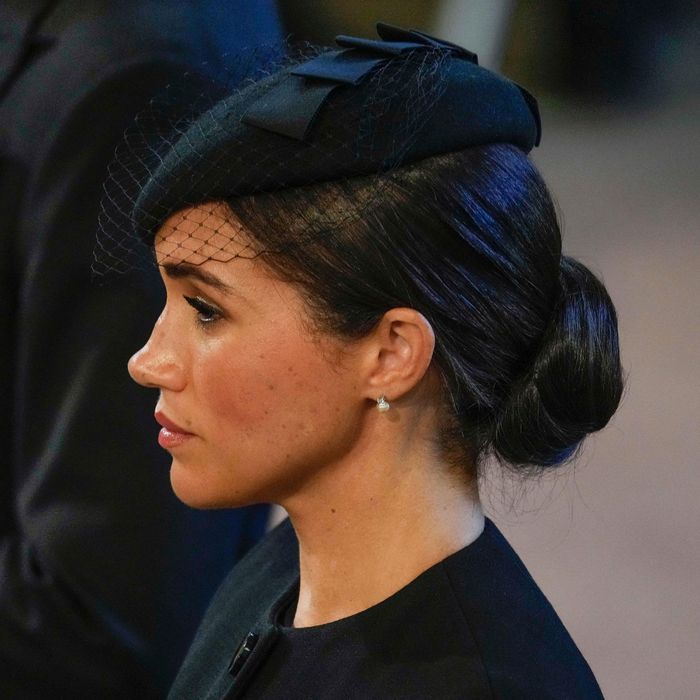 Photo: Gregorio Borgia / pool / AFP via Getty Images
Ever since Prince Harry and Meghan Markle stepped down from their royal responsibilities, the only thing more inevitable than the Bean drama in England is that the "people" at Meghan are "crazy". The period of national mourning over the death of Queen Elizabeth II has proved to be no exception. From the moment news broke that the Queen was seriously ill and the royal family was moving to Balmoral Castle to be with her, Meghan became the subject of obsessive speculation. In those first few hours, his critics were mostly concerned with his decision not to join the Queen's family. While some reports claimed that Harry was told his wife was not welcome, other British media shops attacked meghan Praising William's wife, Kate, for choosing to stay back, … for choosing to stay back. (Kate is said to have stayed at home to look after her children on their first day of school.)
Following the Queen's death, Meghan joined Harry in England (a potentially painful and difficult decision considering how he described his time there) and spent the weekend at various royal events. Unsurprisingly, his completely neutral presence at these events has provided many new opportunities for people to raise the issue of completely normal human behavior. It didn't take long for the hashtag #GoHomeMeghanMarkle to trend on Twitter with allegations that Meghan was pretending to be mourning for attention after inflicting so much pain on the Queen, even as she and Harry met William and Kate. Joined us for a walk outside Windsor Castle. (It was the first time the couple appeared together in two years.)
For what it's worth, Meghan and Harry seemed to be on pretty good terms with the Queen; The couple told Oprah in 2021 that they were still chatting with her regularly while Charles was ignoring Harry's calls, and Meghan said the Queen had "always been wonderful" to him. The Queen issued an official statement at the time, saying that "Harry, Meghan and Archie will always be very dear members of the family." But why would he stop someone from peeing for no reason? Below, every other ridiculous reason people have criticized Meghan since the Queen's death.
saying hello. When Meghan was shaking hands with mourners outside Windsor Castle last Saturday, several women refused to join her, looking down to avoid eye contact and when she reached out to shake hands Ignored Meghan's hand. Women got full support Twitterwhere one the user The man who declined to shake his hand called him a "spirit animal".
To be a flower Another point of scrutiny when Meghan greeted the public was her decision to hang over a bouquet of flowers that had been handed to her by a fan in the crowd. One video shows a royal aide trying to pick flowers on Meghan's behalf at the rest of the Queen's tribute, and she kindly tells him she wants to do it herself. In another video taken shortly after the exchange, a new colleague takes bouquets from both Meghan and Harry after a brief exchange in which Meghan appears to reiterate that she herself wants to have flowers.
Obviously, protocol dictates that royals should not carry bouquets, which may contain small bombs or other weapons. That didn't stop people from calling the mix-up "weird" and accusing her of putting down the flowers herself for the photo op.
wearing a dress. For most, um, creative takeaways from the same appearance outside Windsor Castle, a handful of conspiracy theorists have been convinced that a crease on Meghan's dress was actually a microphone she used to watch the Queen's funeral on her podcast and/or was worn to help transform the material. Or Netflix deals. Do they think he doesn't have enough material?
Holding Harry's hand. At a service marking the beginning of the Queen's lying to the kingdom, Harry and Meghan held hands, which per Twitter was, "inappropriate,"inappropriate," And "an insult." While it's true that PDA is generally downplayed in the royal family, Princess Anne's daughter, Zara Tindall, also shook hands with her husband Mike in the exact same incident – that doesn't seem to be a problem with either. Was. Hmm!